IN THE ARMY.
...or you could just eat it in cake form instead.
It's kind of funny that Bart is watching Rambo as I type up this post. I keep getting distracted all the awesome special movie effects *LOL*
I write this with a little bit of a "tail between my legs" attitude because I know I've been MIA for quite a while. The saying 'when it rains, it pours' is so true for me. For the last couple of months, I've been cake-free and just enjoying some non-cake decorating activities (still "playing" ultimate frisbee and just recently signed up to run a 5K in Niagara for the 2nd time!) then all of a sudden, cake orders started coming in. At first it was just one cake a month, and then more came in and you know me, I have a hard time saying no!
It's not even that I have a hard time saying no, it's that I don't WANT to say no! I'm realizing that my imagination kind of limits me a little in the cake world. You know how authors usually write what they know? It's the same for me, I decorate what I know, and I'm pretty girly, so I know pretty, girly things and that's usually how my cakes turn out (Hopefully!) Without other people asking me to make certain kinds of cakes, I don't think I would ever do it myself.
For this cake project, a close family friend of mine (who Filipino culture has me calling 'aunt') asked me to make a cake for her son's 7th birthday party. It was actually kind of on the fly and not at all written specifically or highly organized. We were at a Tim Horton's with a bunch of our friends and prayer group members when she asked me if I could make a cake on our way out the door. I got all excited and said 'OF COURSE' right away until I realized that I was going to be away shopping in the States that weekend. Instead of saying no, I tried to figure out how I could find a way to be able to say YES!
After that we traded a couple of E-Mails and from there I found out that Gian likes all things ARMY, so my first thought was an army tank, of course! (Another of course was that I didn't really have the first clue of how I'd
make
an army tank, but fake it, 'til you make it, right?!)
So my first step was to Google some cakes out there and look at photos of army tanks.
CONFESSION: First attempt at the army tank...my carving knife and I got a little too intense. I ended up cutting a big chunk (instead of taking it a little bit at a time like I
should
have!) and with a big chunk like the one I took, if it's not right the first cut, then to try and fix it...well, I ended up having to trim a little bit here and then a little bit there until finally I realized there was almost no cake left! GAAAAAH! So a little word to the wise, I don't care how many cakes you've got under your belt, 5 or 50 or 500...sometimes it doesn't turn out perfect the first time around! Leave enough time!
A week before I baked the cakes and started the disaster cake shaping, I made the tank's cannon using a bubble tea straw, some green fondant and some matte lustre dust in green, brown and a little bit of gold because I didn't have any matte yellow. Had to keep it to a minimum because I had to remind myself that there was no such thing as a shimmery, sparkly army tank! *LOL*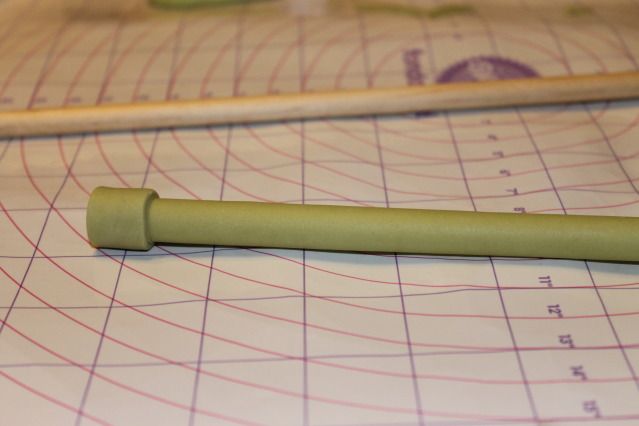 I "finished" the cake pretty late into the evening and I had pretty much hit a brick wall. I could NOT think of a way to improve it. I knew that it wasn't finished, but I was tired and couldn't figure out where to go from there. Luckily, it's also as they say that a good night's sleep offers a fresh perspective. The next morning, I was able to look at what I had so far and decided that I needed to pipe a cake border so that I could extend the "dirt" throughout the whole surface of the cake without it all falling out all over the place during transport and making a mess!
I also a bit stumped with how I was going to make the belt for the tank and an idea actually came to me while I was driving - it's so weird how blessings can come out of nowhere sometimes!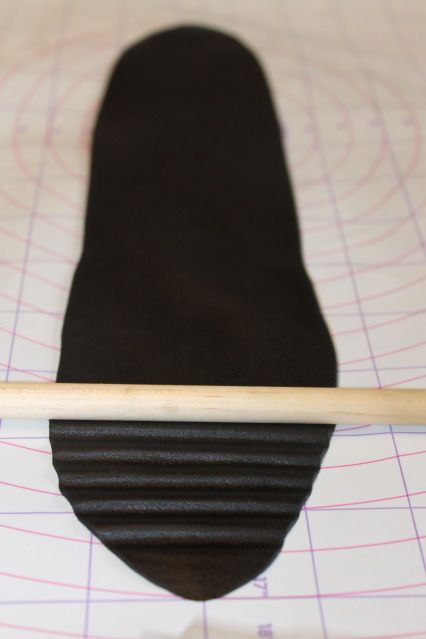 I thought I'd use the dowel that I had used to hold the cannon while I painted it to leave impressions on some black fondant for a "ridged" look. After I pressed the dowel into the fondant, I kind of applied a teeny, tiny bit of downward pressed to bunch the fondant down a bit to further exaggerate the ridges.
CONFESSION: I was kind of trying to avoid this since piping with buttercream isn't my favourite thing in the whole world! *LOL* I feel like this small little step helped "finish" the cake off. The only thing left to do was add the candles that were given to me, and voila!
I have to say, I had a hard time with this cake. I guess I was a little bit thrown off with the first failed attempt at the tank and I went from one extreme of cutting too much, to the other extreme where I didn't want to cut anything off or shape the second cake.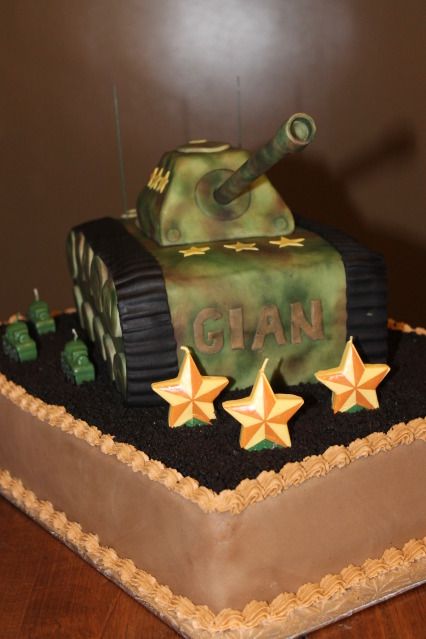 I had a really fun time with the "camo" look, though, since I kind of figured that it was an anything goes kind of look. I swirled a little bit of green here and there all over the tank, swirled some brown after and then went back with swirls of green again...and then more swirls of brown!
Overall, I'm happy with how my first attempt at an army tank birthday cake turned out and I was really happy that my aunt seemed to like it. I'm still waiting with bated breath to find out how the birthday boy liked it though, and after that, hopefully I can rest easy! I can only hope that I'll get another opportunity to give an army tank another shot so I can use all the things I learned making this one!
I know this got long, but after my hiatus, I didn't think I could keep it very short! If you're still reading this, thanks for sticking with me and as always...
Stay Sweet,
Catherine